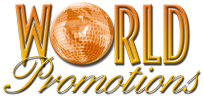 Phil E DanznewZ - Universal Dance Center, Inc
"I judged a World Promotions competition last weekend...In all the years I have competed and judged, I have never seen such a crowded room so early in the day. There were a lot of spectators watching and supporting their friends with real enthusiastic applause in between all the lowest level dances."
Nancy Jones - Las Vegas, NV
"Just a quick note to say what a pleasure it was... The competition weekend an extraordinary experience. I couldn't have selected a better event to be initiated into ballroom competition. While I sure that many people worked with you to make this event appear so elegant yet effortless, I personally believe that your constant availability and participation in the many events of the weekend was key to making the participants feel so valued and the schedule flow so smoothly. I can hardly wait for the BA comp! Thanks so much for an incredible competition."
John DiBacco - Scottsdale, AZ
"Andrew & Anna, Thank you for such a great experience at the Sunburst Ball. It was so special to be able to dance with my daughter, Julianne. She's a tough teacher but I loved every minute. The competition was well organized and a blast. See you in dallas!"
Renata Shvarts - New York, NY
"I have a 6 yr old daughter who refused to dance any competitions. I finally bribed her into dancing her very first competition with her 6yr old partner at WP Thanksgiving Ball in NYC. After the competition she came up to me and said that she wants to dance more competitions and when is the next one."

Wherever possible we recommend that participants buy tickets via their dance studio or instructor.
For those not affiliated with a studio – we offer an online ticket purchasing service. Spectator tickets range in price from $30 to $80 per session. (A session is defined as a period of the event for example most events offer a daytime competition session from 9am to 5pm and a second session from 8pm until 11pm).
Return to the web page for each event to obtain a schedule of events and session details.
Spectator tickets purchased online do not include reserved seating and are non refundable.


Click an Event to View Spectator Ticket Options: